About Us - Over 40 Years of Combined Experience!
Linda and Jim Puder decided to move to the State College Area in 2001. After owning a thriving Massage Therapy Practice in Wisconsin for 12 years, The D-Stress Station Stress Management Center opened and continues to evolve educating individuals on the importance of healthy wellness choices. Click here to tour the center.
Our Mission
Our mission is to provide an environment for our clients to learn and practice behaviors through physical, emotional and nutritional therapies enabling them to process the world in a way that empowers them. Click here to read client testimonials.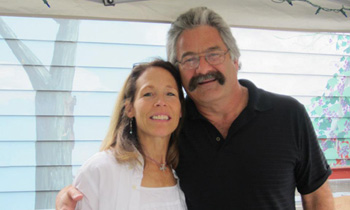 Linda Puder
Linda is a Licensed Massage Therapist, with over 30 years experience in the field as a Certified Colon Hydrotherapy Therapist, Certified Neuro Muscular Therapist, Certified Manual Lymph Drainage Therapist and a Certified Infant/Family Massage Instructor. Linda is a graduate of Penn State with a Bachelors degree in Administration of Justice. Prior to her career in massage therapy she worked in the corrections field for 10 years. She then continued her education at the Minneapolis School of Massage in Minneapolis, Minnesota and graduated as a Sports Massage Practitioner.
Jim Puder
Jim is a Licensed Massage Therapist specializing in Neuro Muscular Massage, Sports Massage/Soft Tissue Release and Deep Tissue Massage. Jim is a Certified Accelerated Recovery Program Trainer (ARP) with over 30 years experience in massage, bodywork and injury prevention and recovery. He was certified in 1995 from Eagles Nest Institute in Duluth, Minnesota. Prior to his career in massage therapy his background included 15 years in counseling with a Bachelors degree in Outdoor Education and an Associates Degree in Horticulture.
Linda and Jim have the ability to create an intimate connection with their clients. This allows them to work in partnership to identify the repetitive stress patterns held in the body. After identifying these negative stressful patterns through bodywork and communication they interrupt the pattern and empower the individual to practice healthy life-style choices.